About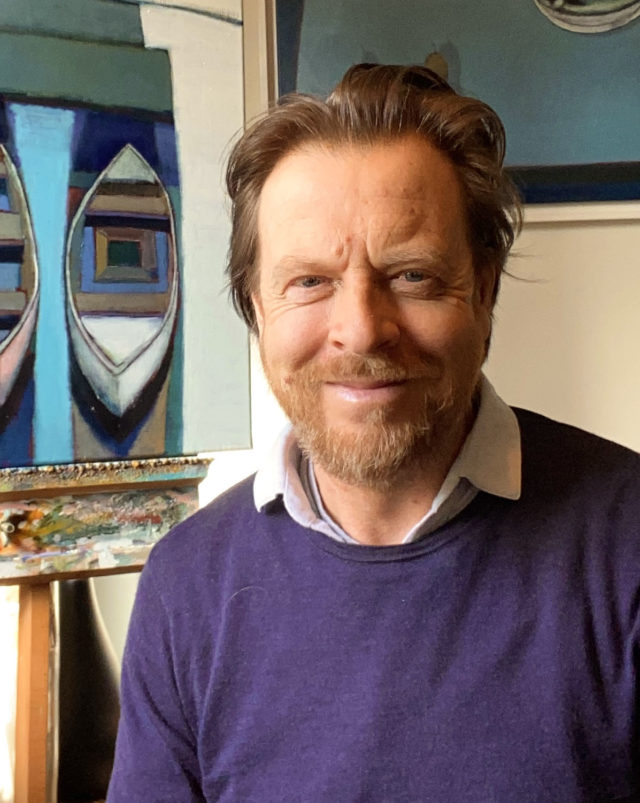 Nigel Sharman studied at the University of Brighton. Since leaving college in the mid 80's, he has worked across several design fields both in the UK and in New York. While his formal artistic education took place in Brighton, he puts his real education down to "being dragged round the galleries of West Penwith in Cornwall as a small boy by my father and introduced to work by Alfred Wallis and Ben Nicholson." While currently living and working in London, Nigel's roots are firmly in the South West of England, where the landscape and culture still influence his work.
Nigel uses oil paint on canvas and has particular concern for colour and composition. He paints semi-figuratively, and starts from a source such as a landscape, a harbour, boats, a still life, or a nude. Nigel is fascinated by the beauty of ordinary everyday objects and often arranges compositions of great simplicity. Through their careful placement and attention to colour relationships he seeks to create a feeling of calm. He works with limited palette of often muted colours which are built up over layers. Harbours represent both places of calm and sanctuary and the beginning of a journey. Their mouths beckon to the outside unknown. He sometimes depicts nudes in semi-abstract coastal settings often represented by horizontal colour blocking. The flattened and simplified figures are either reclining on a beach or by the water's edge.
In the end Nigel hopes to create compositions that are at once deceptively simple and very sophisticated. They can be looked at each day and each day offer the viewer something different.
---
Education
Msc International Relations, LSE
BA Fashion Textile Design, Brighton University
---
Forthcoming Exhibitions
2022
The Affordable Art Fair / Battersea / London / 10th-14th March
The Affordable Art Fair / Hong Kong /
The Affordable Art Fair / Hampstead / London / 4th-8th May
---
Exhibitions
2021
Nigel Sharman / Katherine Richards Gallery / Hove / 11th Dec – 12th Feb
The Other Art Fair / Kings Cross, London / 1st -4th July
The Affordable Art Fair / Battersea / London / 7th – 11th July
The Affordable Art Fair / Hong Kong / 26th-29th August
Blue Sky Online Exhibition / Online / Art For Cure / 29th April -29 May
2020
Nigel Sharman / 19th Sept-2nd Oct / Marine House at Beer – Devon
The Big 100 Artists / Art For Cure – 7th May -6th June – Online
The Affordable Art Fair / Battersea – 12th -15th March – London
2019
Nigel Sharman – Marine House at Beer – June 22 – July 5, 2019 – Devon
The Other Art Fair – King's Cross London. 4th-7th July 2019 – London
The Auction Collective. Candid Arts – July 3rd – 6th, 2019 London
The Land and The Sea – Aubergine Arts 6th Oct – 3rd Nov London
The Affordable Art Fair – Hampstead – 9th – 12th May – London
The Affordable Art Fair – 16th- 19th May, 2019 -Hong Kong
The Affordable Art Fair – Battersea – 7th – 10th March- London
The Affordable Art Fair – 6th – 18th Nov – Singapore
2018
Solo Show – Town Mill Arts – 10 -16 May, 2018 – Lyme Regis
The Land and The Sea – Aubergine Art, 05 Oct – 02 Nov Wimbledon
Sea Fever – Hoxton Arches – 11-13 Sept , 2018 London
The Affordable Art Fair, Battersea, 8 – 11 March, 2018
The Other Art Fair Victoria, 22nd-25th March – London
2017
The Other Art Fair, Arnolfini Gallery – 1st-3rd Sept – Bristol